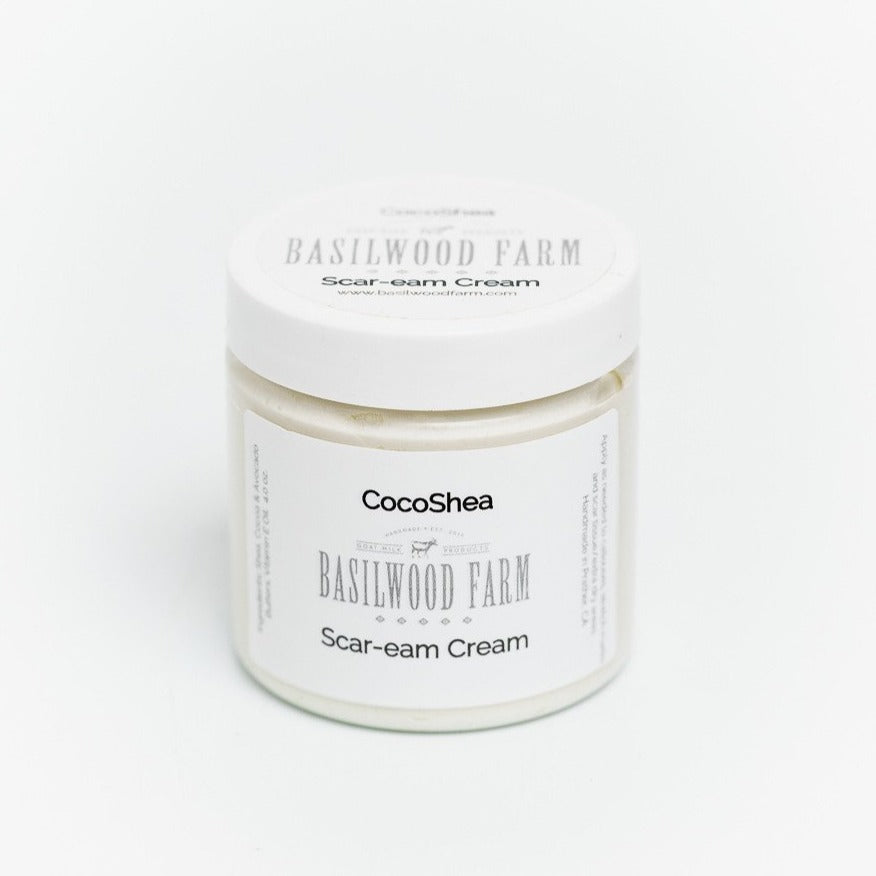 Sca-Ream Cream
$ 22.00
DETAILS
A lusciously luxurious blend of NEW & IMPROVED SuperStar ingredients - Organic Cocoa butter, Organic Coconut oil, Organic White Willow Bark, and organic Vitamin E - dry, over-stretched and scarred places will be so happy you found this :-)  This cream is solid in the container, but melts immediately when you smooth it into the palm of your hands.  Rich in Vitamin E, high in antioxidants (which help fight off free radicals) and deep penetrating qualities, this cream will not disappoint. Massage it into your skin twice a day and feel won-der-ful!!  Use it as a body or a massage cream.  Makes a fabulous gift for the new mom-to-be, a special massage or anyone struggling with stretch marks or scar tissue.  A little goes a long way. Net Vol. 4 oz.


INGREDIENTS
Water (Aqua), Organic Cocoa Butter (Theobroma Cacao), Organic Coconut Oil (Cocos Nucifera), Emulsifying Wax (Cetyl Alcohol, Stearyl Alcohol, Polysorbate 60), Glycerin, Vitamin E (Tocopherol), Sunflower Seed Oil (Helianthus Annuus), Phenoxyethanol, Organic White Willow Bark Extract (Salix Alba), Organic Neem Seed Oil (Melia Azadirachta), Organic Rosemary Leaf Extract (Rosmarinus Officinalis), Organic Sunflower Seed Oil (Helianthus Annuus), Organic Alcohol, Xanthan Gum, Tetrasodium Glutamate Diacetate

None of these health benefits, nor the ideas listed, have been evaluated or approved by the FDA, should be used in place of personal judgment or medical treatment when needed, nor are they intended to diagnose, treat, cure or prevent any disease.
100%
of reviewers would recommend this product to a friend
Reviewed by SLove, from United States
Verified Buyer
I recommend this product
Really great cream!
I absolutely love this company, their sweet goats and this sca-cream! So soft & creamy. I don't know about it's long term effectiveness because I just started using it on some old scars, but I like how it feels & I trust this company. THANK YOU ALL & your GOATS :) Wonderful product that smells great & smells natural, too!
We love you back, Girl!Jill & The Team
Reviewed by Melissa n., from United States
Verified Buyer
I recommend this product
Yes!
I was so impressed by reading & writing my last review about the use of Scar-eam cream on my husband's leg that I started using it Myself ! First I tried it on my feet and then on a couple other extra dry spots and Scar-eam works wonders! The cream absorbs quickly & is very effective & soothing.
I like to use it once in a while on my feet at night after a hot shower & then put on cotton socks & go to bed. In the morning when I wake up my feet are soft & nice! Amazing! Thank you Scar-ram!
Thank you, Kiyoko, for your lovely review! We are SO glad that you are enjoying it :-)
Awesome
Love the product and the warm and personal customer service. I'm 8mo pregnant and using it daily to avoid stretch marks. Would definitely buy again.
Sca-ream
Purchased for my son in college. He finished his medicated treatment and now has acne scars. So he has been using along with the Detox soap. He is very happy with the products. And hopeful the scaring will demish with time.
We hope so too, Silvia! Keep us posted :-)